Best Muc Nuong in Hanoi
: 36 Hang Bo Street ,Hanoi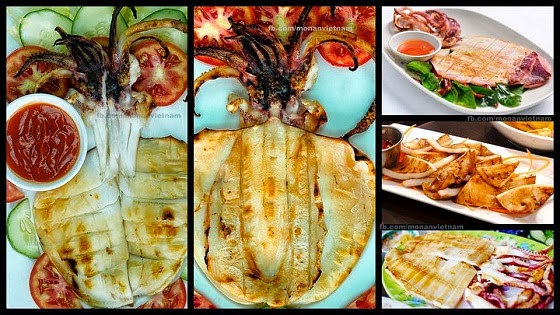 There's no greater pleasure than drinking on a busy Hanoi sidewalk, and what better to nosh on at while you do than muc nuong Dried squid is grilled over hot coals before being shredded and served with a spicy sauce. It's a chewy treat that is best washed down with shots of rice wine.
Dried squid is one of the famous specialties of the people of Quang Binh. As the squid fishing specialist, they found the levels of many types: leaf squid, squid, Octopus squid, squid pins …
Squid fishermen often go on at 1-2 am. Large boat carrying the "baskets" out to far off, the squid boats sitting on a basket and began his work. In light of the light bulb, leaves squid on! Approached, the squid up pretty easy question. Squid fishing period lasted from 2 pm to 10 am. Squid any questions, they abandoned the boat, someone specializing in skin peeling, cut squid and squid hanging in rows on the string tension available, or they will be harvesting and drying squid right at the boat dock.
When grilled squid on fire toasting skills than olive axes, not to old flame. Squid with white color, when cooked grilled yellow switch. Fire grilled just right, will mature squid, both in the outside, juicy fly breathe naturally. If too old to fire, the burning gold squid only outside, but inside the meat is still alive. Especially grilled squid is best served with alcohol.
Items not marked with squid sauce other than chili. When the squid pads heavily sweetened foods, soft, fragrant, with a pungent blend of chili. Dried squid grilled with beer to Hanoi, the famous place of all processing blocks.
Dried squid is not only baking but also fried, or roasted with sugar, chili, spices, then fried to crispy food, very charming and attractive.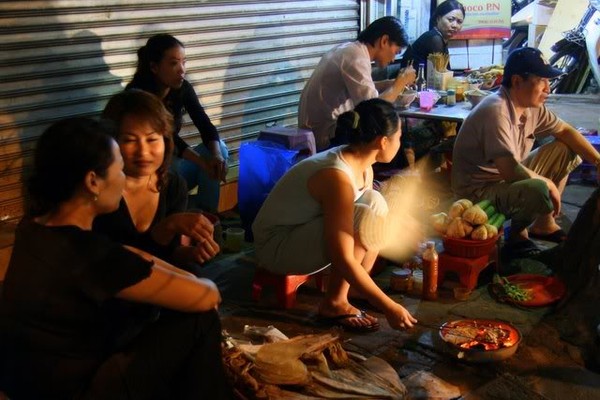 Hanoi is known to be among the greatest street food cities in the world. The only way to have a feel of the beauty of the Old Quarter and its cuisine is when you take a walking tour through the streets of Hanoi. There are samples of tasty local dishes at a variety of impressive and amazing stalls.
You can start your walking tour from Dong Xuan which is the largest covered market you can find in Hanoi. There are a lot of street hawkers with such amazing produce ranging from seafood to mouth-watering fruits. The Hanoi Street Food Tour will provide detailed information about the various traditional food as well as the ingredients used in its preparation and the origin of some of these popular northern dishes. While enjoying the walk tour, you can have a taste of the seasonal fruits and also some nice snacks on carts along the street. 
As you go through the network of streets filled with life in the Hanoi's Old Quarter, there are local eateries where Banh Cuon, the famous Hanoi dish is prepared. The chefs are skillful and always put up a show when it comes to displaying how this scrumptious dish is prepared. Exploring more deeply into the beautiful sites of Hanoi Old Quarter, you'll find street stalls, shops and houses that's serene where people resides with almost the same kind of lifestyle ever since Hanoi was created over the past millennium. There is a traditional cake served mainly at engagement parties made from mung beans, pounded rice and sugar.
20 delicious street foods with low cost less than 10000 VND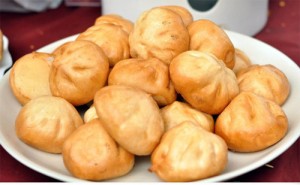 1. Fried steamed wheat flour cake: fried stream flour
Fried steamed wheat flour cake price is about 4000 – 6000 VND, this food is often in the meal in the afternoon. Enjoy with sour sweet sauce or chili sauce
2. Grilled meat by stick: grilled meat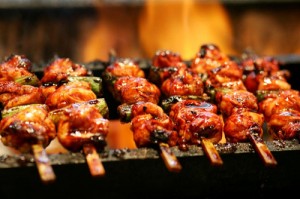 Grilled meat by stick has many lovers especial kids. One price is about 6000 – 10000 VND, you could pay more 2000 VND to have a bread with grilled meat stick. Walking on the streets of Hanoi in the after noon, you can see grilled shops near the side walk with great smell!

3. Banana cake, yam cake: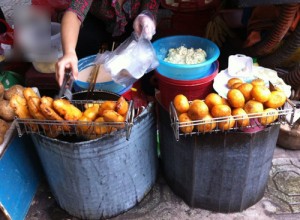 Only with 5000 for one cake, The main ingredients are banana, yam and flour then fry in cooking oil. They are fat food so you could only 1 – 2 cake for once
.
4. Gio cake:
Gio like the name of famous food of Vietnam – Gio Cha but have no Gio in it. This food is made by rice powder and core : chopped black mushroom and meat. The cost is only 7000 – 10000 VND
5. Pillow cake:
You are right J.its name like its shape like a pillow. The core inside is meat and quail egg, cost from 7000 – 9000 VND. Pillow cake is often sale in the winter, and people like it. Enjoy with sour sweet sauce and salad.
6. Quay:
Cheap price is 2000 – 3000 VND/per, Quay is often eaten with salad and sauce as pillow cake. Many people like to put this food in HOT porridge or Pho.
7. Fried food with stick:
You can find these food in front of schools for the pupil with cheap price about 5000 – 7000 VND. It's really a small party for pupil after the school time with full of smile and sharing, there are many kind of stick such as: Hot dog, fried Nem Chua, fish and shrimp…
8. Fried cake: fried cake shop
There are two type of Fried cake depend on their core: the sweet one with sugar and salty one with meat, black mushroom. The main ingredients are rice, peanut powder and honey or sugar. The price is only 2000 – 3000 VND, the salty one price is 4000 VND and enjoy with sauce.
9. Trung Vit Lon: duck egg
Have the babe duck in the eggs, a nutri-food but many foreingers and visitors dont like this food :D . you can find them in Hang Rong shop on ervery streets of Hanoi for breakfast or super. The price is about 6000 – 8000 VND, enjot with salt, ginger.
10. Trung cut lon: quail egg
The same with Trung Vit Lon but Quai's eggs not Duck's eggs. I love this food and often buy them from local market to cook. The price in local market only about 10000VND/10 eggs and in the street shop is about 10000VND/5 eggs coz the sauce and they boil them for you. The sauce is made of lemon juice, salt, ginger and pepper.
11. Sugar cane juice: sugar cane juice on street
The price only from 8000 – 10000 VND, this is the great drink for HOT summer and nutritious drink. You can find them everywhere at the drink shop with a sugar cane juice machine, sit down, call for a glass of sugar cane juice and wait for 5 10 minutes. You also walk on streets with a nilon bag of sugar cane juice if you don't like to sit at the shop.
12. Banh Nhung: nhung shop
5000 VND for a stack of Banh Nhung, it's not common food of street food Hanoi. The kids often like them coz the crack.
13. Bo bia: My favorite street foods, I don't know why name is Bo Bia but it's really delicious. The ingredients are coconut fibers, sesame and the special is piece of sugar and the "bark" of foods. This food is rolled as spring scroll, the price is only 5000VND, fantastic! What's a pity , there is now many Bo Bia shop in Hanoi now.
14. Trang Tien ice cream:
Trang Tien is the name of street and also the name of famous brand ice cream in Hanoi, everybody in Hanoi know about it. The old brand name for 50 years. It's not only cheap with price 7000 – 8000 VND and also special by its taste. As its name, you can buy Trang Tien ice cream on Trang Tien street near the Sword lake. Don't like any ice cream shop in Hanoi, you can buy ice cream, sit on your bike and enjoy, there is many couple and full of smile - a dating place, or hold your ice cream on hand and walk around the sword lake.
15 . Every kind of Bong: corn bong
Favorite street food for girls and kids, less fat and can eat in a long time. The price is only 6000 – 8000 /pack. They are often made of flour or cassava flour then fry.
16. Yogurt: sua chua nep cam
Food for ladies's skin , the different from Hanoi with other region that they often add more ingredents in yogurt to create taste such as: fruit or Nep Cam. The price only about 5000 VND.
17. Potato storm: fried potato
Cool name huh ! this new foods for kids, the price is about 10000 VND. The tase like many kind of fried potato.
18. Qua chua dam: fruits
The main ingredients are sour and green fruits such as: mango, plum, guava fruit… slice and mix with sugar, pepper powder become attractive foods. The price is about 8000 – 10000VNd/100 gram – depend on the fruit price.
19. Caramen: Hang Than caramen
An old food and maybe from the foreingers, the famou place to eat this food is Hang Than street
20. Tao pho:
This is a unique food of Northern of Vietnam for Hot summer, the ingredient as tofu but near the last step to make tofu. The saler will slice Tao Pho to bowl, then pour flower sugar and ice to make a bowl of cool Tao pho. The price is about 5000- 7000VND/ bowl. You can find them on Hang Rong on streets of Hanoi with unique sound " Tao Pho de".
Street food Hanoi Shops located at many narrow street of old quarter Hanoi .If You could not find it by yourself , why not book a street food walking tour 3 hours with $ 20.00 /01 person included : street food,drink and tour guide